YOU CAN FIND ME OVER AT MY NEW WEBSITE NOW: YOLEVINS.COM!
→ No CommentsTags: Uncategorized
June 22nd, 2009 ·
Comments Off
Comments OffTags: CATCALL · FOOD · PHILADELPHIA · PORTLAND · Uncategorized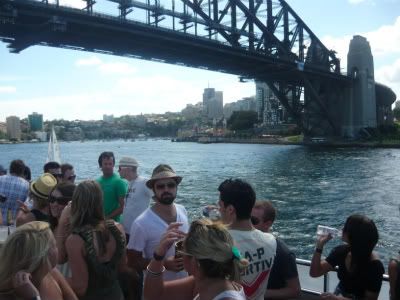 We went on a boat cruise called Circo Loco. Some big deal dudes from Ibiza were meant to bring the deepness but they cancelled their trip over some stupid shit and the promoters just beefed up the line up with the best locals we got. Simon Caldwell, Ken Cloud and Canyons killed it on the lower and upper decks! Yes I am aware that this is the third boat cruise I've been on this year.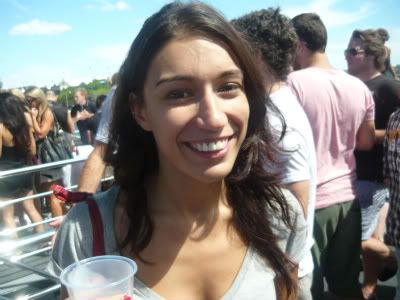 → 2 CommentsTags: Uncategorized
So me, Spruce Lee and Captain Franco got sick of hearing music that wasn't rap at every club in Sydney and decided to put on a night that only played rap from start to finish. It's called Halfway Crooks and the first party was one of the greatest nights of our lives.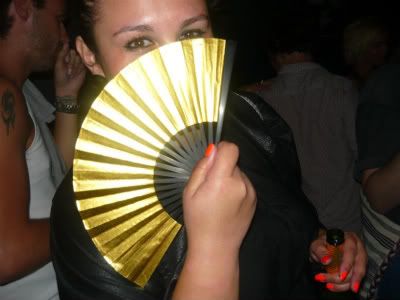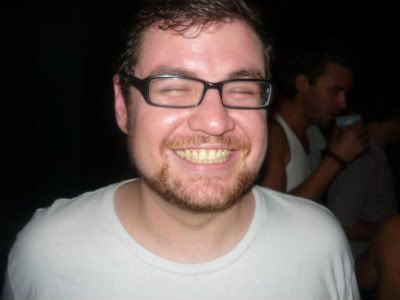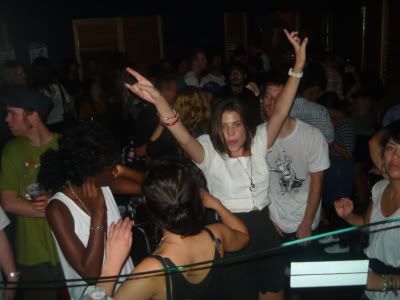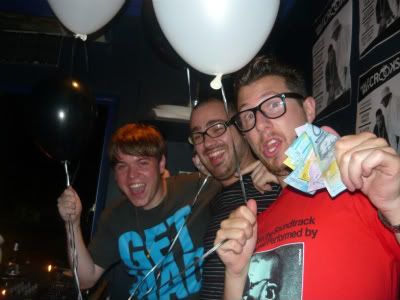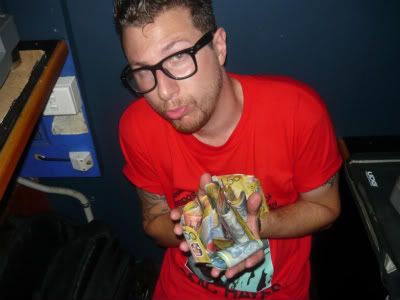 → No CommentsTags: Uncategorized
Hey so I suck at updating this motherfucker. Here are some photos I took in March!
I took these the night I made some cocktails for fellas with beards ONLY.
This was the night I perfected my kangaroo burgers. recipe coming soon!
These are the shoes I threw out when we moved house. (PS we moved house)
This was the best visual joke I made all month.
No wait this was.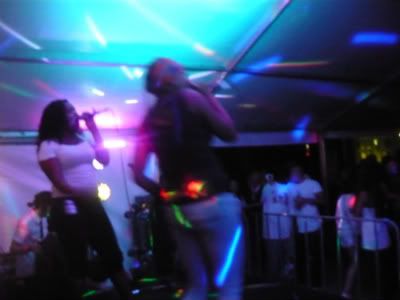 Spruce goddamned Lee DJ'd for Killa Queenz one night at Sydney Uni.
Then there was that time I had no food in the cupboard so I made weird pastries filled with spinach, capsicum, onions and cheese and they were BITCHEN!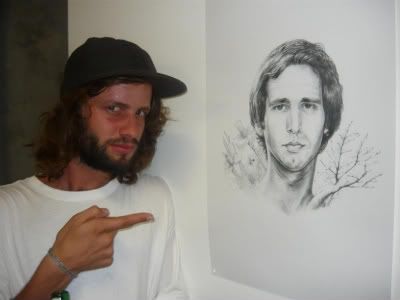 Finally there was that night when Hana Shimada showed her best works at Black & Blue Gallery and Willy Stumbles finally met Chevy Chase.
Now who knows what April will bring? Oh wait I do! Because it's May right now and i'm back-publishing!
→ No CommentsTags: Uncategorized
February 28th, 2009 · 1 Comment
B and Em were in bali for the last two weeks eating nothing but giant prawns and scrambled eggs. When I asked what they wanted me to cook for them upon their return, they both demanded meat off the bone. So I decided to cook the messiest, funnest meal for carnivores - bbq ribs. I've cooked ribs heaps of times before, but this time I thought I would cook them as perfectly as possible, taking as long as I could to make the most flavoursome, juicy ribs.
First I soaked two huge racks of pork ribs in cider vinegar for about an hour. This tenderizes the meat and allows all that good flavour to get right in there. I then coated the ribs in a simple rub of brown sugar, cayenne pepper, smoked paprika and mustard powder and let them sit for another hour while I fired up my weber bbq. After searing each side of the ribs over the coals, I placed them on a rack over a shallow pan filled with beer. I put the lid on the weber and left the beer to boil and steam the ribs, returning after an hour to cover the ribs in my own BBQ sauce and to throw a handful of applewood chips over the coals, smoking the ribs for another hour. Finally they were done and maaaaaaaaaaan they were good.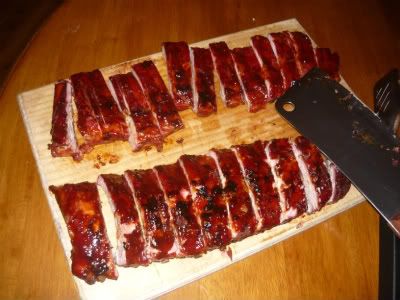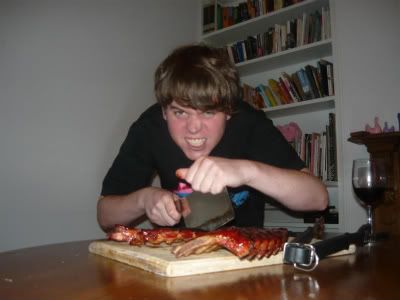 → 1 CommentTags: Uncategorized
February 26th, 2009 · 1 Comment
World Bar threw a boat cruise party for their staff and I managed to weasel my way on there for a day on the water. BUT nobody told me about the nautical dress theme so I felt like even more of a weasel than I should've.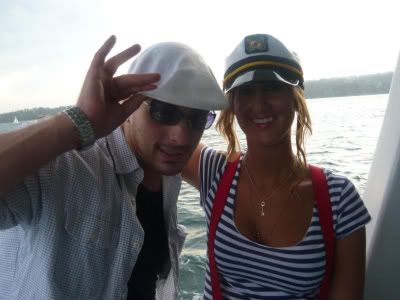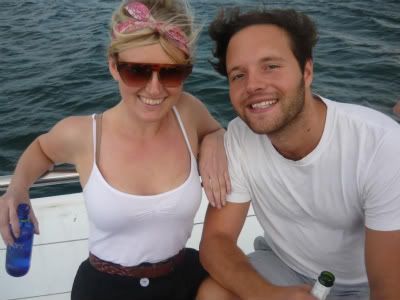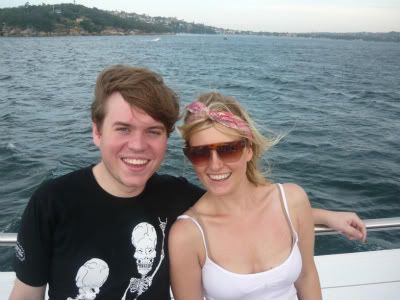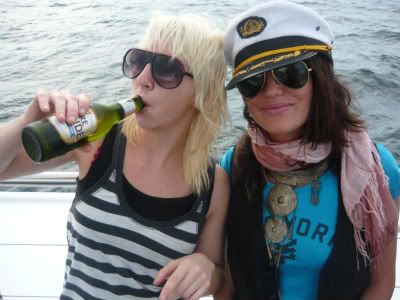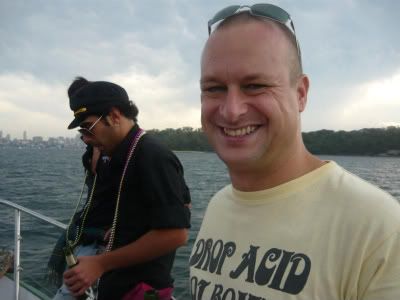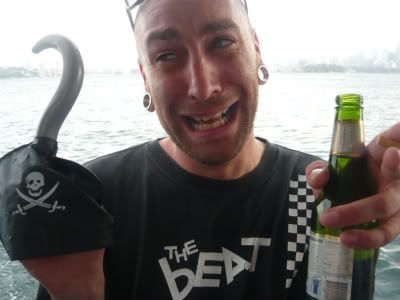 Things started getting messy towards the end of the cruise.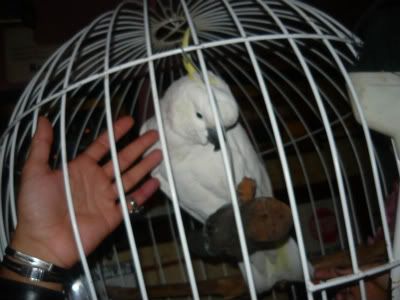 After the boat docked we went to the Friend In Hand for some much needed cheap pasta and some quality talks with a feathered friend. Everyone else went to the greyhound tracks but after a big weekend the last thing I needed was a chance to throw more money away so me and Splitter escaped to his couch.
Within an hour Splitter had passed out and I put some forks in his earlobes like a true BFF.
→ 1 CommentTags: Uncategorized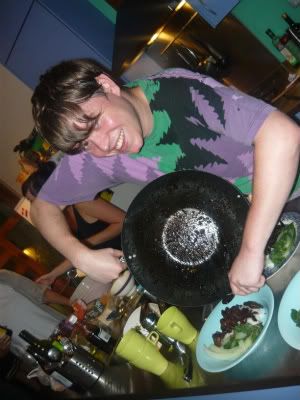 Cass took a photo of me serving up caramelized pork with bok choy and rice at Jess, Joel, Roland & Jeni's house, confirming that I look as dorky when I cook as I do when I DJ. HEY GUYS!
→ No CommentsTags: Uncategorized
Since I was raised so well, I decided to 'pay it forward' to my parents for doing such a bang up job and headed back to the burbs to cook up a chicken on their weber.
The chicken was marinated in a mango chutney and roasted over the coals for 2 1/2 hours. Mum cooked some rice and lentils to go with it and I made a chick pea and capsicum salad.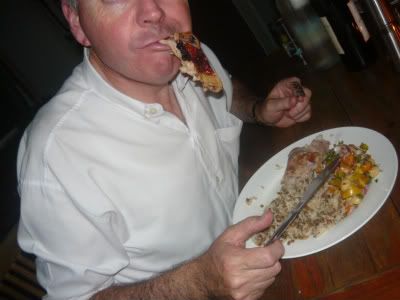 Dad loved it!!
→ No CommentsTags: Uncategorized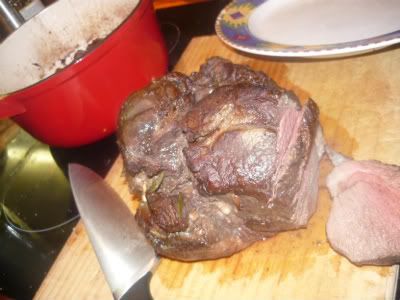 I'd never cooked or eaten a pot roast before, it always sounded like something they ate in American sitcoms that didn't actually exist. Then I realized - a pot roast is a roast in a pot! DUH.
For my first attempt at a pot roast I bought a leg of lamb and cut the bone out, then seasoned the meat with salt and pepper and a shitload of fresh rosemary. I added the meat to the pot which was full of vegetables I'd softened in hot butter and then filled the rest of the pot up with red wine, leaving it to cook for just under 2 hours.
Carving it up I realized I had overcooked it a little but sweet fuck it was still so good. I served it up with some wilted spinach and the warm mustard potato salad struck again. There was so much meat left over that I was eating nothing but lambwiches for the next few days, which is not a bad thing at all.