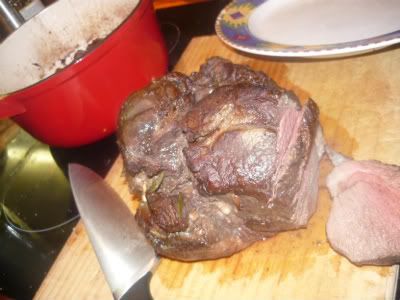 I'd never cooked or eaten a pot roast before, it always sounded like something they ate in American sitcoms that didn't actually exist. Then I realized - a pot roast is a roast in a pot! DUH.
For my first attempt at a pot roast I bought a leg of lamb and cut the bone out, then seasoned the meat with salt and pepper and a shitload of fresh rosemary. I added the meat to the pot which was full of vegetables I'd softened in hot butter and then filled the rest of the pot up with red wine, leaving it to cook for just under 2 hours.
Carving it up I realized I had overcooked it a little but sweet fuck it was still so good. I served it up with some wilted spinach and the warm mustard potato salad struck again. There was so much meat left over that I was eating nothing but lambwiches for the next few days, which is not a bad thing at all.